script type="text/javascript"> var gaJsHost = (("https:" == document.location.protocol) ? "https://ssl." : "http://www."); document.write(unescape("%3Cscript src='" + gaJsHost + "google-analytics.com/ga.js' type='text/javascript'%3E%3C/script%3E"));
script type="text/javascript"> var gaJsHost = (("https:" == document.location.protocol) ? "https://ssl." : "http://www."); document.write(unescape("%3Cscript src='" + gaJsHost + "google-analytics.com/ga.js' type='text/javascript'%3E%3C/script%3E"));
This is Connor happy as usual.. This was taken on a walk over the fields with (from left to right)Addy, Giggles and Connor...I love this Picture of Addy and Gigg's....And this is Aphrodite or Afra for short...
ABOUT US
Personal Note by Bill Gibson
R.I.P. Connor, Vinnie and Addy who are hopefully all with each other at Rainbow Bridge xxx
Connors Legacy was inspired by and formed in memory of a truly wonderful dog, who gave so much love and happiness to so many. His mum was a Collie/Lab cross and fell pregnant with Connor when a Bull Terrier broke through our wooden front gate head first to get to her. Maybe this was fate (if you believe in that), because who knows if this company would of ever been formed without Connors inspiration. He was the first born in a litter of eight pups and grew to be a well balanced happy dog, that would bring so much happiness to everyone that knew him. Sensing if you were happy, sad or any mood really, he would bring out or nurture a happier mood in you. Sometimes by coming up to you to give you affection when you were lonely or sad, or walking up to you with his ball if you were bored or moody, so you could take your frustrations out on how far or hard you could throw the ball. He always brought it back for you to do it again and as always, your mind would be on the fact that your arm was breaking, than what ever had caused mood you were in before you started and he would never give up. His mind was so set on retrieving the ball that he would do stupid things that would make you laugh, like getting his head stuck in the back of a chair whilst chasing the ball. He could even inspire happiness by only looking at you in a way only he could, like the picture on top left of this page, where he looks smug because Giggles (third from left and second from right at the top of the page) could not get Connors ball in time. Every time Giggles got the ball he would chew it to stop Connor from having one, but this didn't stop Connor, in fact he started to chew the ball himself, which sort of took the fun out of it for Giggles. He did also inspire Addy (third from right and second from left) and Giggles to be more relaxed, with his calming ways and with Addy being deaf, he found he could rely on Connor when there was something important to do. Like bark to say there was someone at the door, which they stopped doing since Connors Very untimely passing from cancer in the winter of 2008, at the age of 13.
His passing brought on many mixed emotions in everyone that knew him. Sadness about his passing, but happy about the fact that he was no longer in pain. I will not elaborate on his pain, only to say that he never really showed he was in any pain, but you knew that he should be. He had left a big hole in our lives and so a big dog was needed to fill that hole. This is when we got Afra (on the left with me), who does show a lot of Connors mannerisms now and again. She also likes to lay or play down near his grave at the bottom of the garden, whereas the boys dont show any of Connors mannerisms except the calmness and very rarely will you find them near the bottom of the garden unless someone is down there with them. Connors passing brought on a need in me to help other Dogs and owners by passing on all I have learned over the last 30 years about dog psychology, behaviour and training, as I have with the boys (Add's and Gigg's) as well as Afra. This is helping them to be well balanced happy dog's as Connor was, it is the inspiration and the fact that I can help you and your dog too has given me the drive to start and run this business with pride. The latest recruits are Morlich (Rottweiler X), Lola (Yorkshire terrier X) and Vinnie (Staffordshire bull terrier), pictures on the side margins.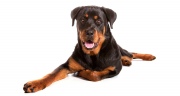 Morlich
ABOUT THE BUSINESS
Connors Legacy Dog Psychology And Training is a growing business offering help to dog owners throughout the UK. The company, which is based in Colchester, Essex was newly formed in 2010. The owner holds over 30 years experience in the psychology and training of these truly remarkable animals and wishes to help other dog owners believe in their dog. Almost every canine in modern day society has been bred to help and respect humans and if everyone took the time to understand how a dog thinks, there would be no need to fear dogs. Dogs are truly amazing and are being used today to find cancer, drugs, bombs, people, endangered plants, animals and even fish in the hope of conservation as well as so much more.
It's very rare that the problem is the dog. The problem is usually a communication issue between owner and dog, we help to build those bridges with understanding.
It's very easy to offer your dog love, although love is not respected in the dog world. "my dog shows it loves me" I can imagine you thinking, "my dog gives me kisses to show it loves me". We can very easily train our dogs to behave in a way that we are not happy with just by stoking at the wrong time. Would you stroke and cuddle your dog if you thought it was frightened? You would make your dog feel worse doing this. Most dog's would prefer an owner that makes them feel safe more than loved.
Connors Legacy aims to supply all owners with a professional Dog trainer, behaviourist, psychologist, that will offer a total understanding of their dog. The expert staff ensure clients noticeable results within the first week. By helping the owner understand that they can still spoil their dog, only in more of a controlled manner. The company will reduce the stress put on dogs owned by the most loving of dog owners. A lot of owners believe they are doing the right thing in treating their dog as they would a child, sadly this causes a lot of stress to the dog and problems to the owner.


This service is intended to give more understanding to owners and reduce the amount of dogs in rescue homes today, by offering the first hour free will hopefully help with this.
Connors Legacy Dog Psychology And Training has a growing network of private clients, situated in and around Colchester and wishes to expand to neighbouring towns and counties, in the hope of bringing peace to other communities where there are unbalanced dogs.
Sadly a lot of owners get their dogs for protection and believe their dog should act in a certain way, which brings fear into the community. Connors Legacy wishes to inform those people that have these dogs, that there is a more controlled way of training your dog that will help keep yourself and any people close, safe from any accidents that may occur through the wrong type of training..
R.I.P. Connor, Vinnie, Addy xxx
This is Roxy
She is a 4year old German Shepherd
ex breeding bitch, that the breeders thankfully
allowed to go to a rescue centre instead of distroying her.
To Find Dog Rescue Centres Near You Click Here
Can you give one of the many thousands of dogs in rescue home a full time loving home and help reduce the need for as many rescue centres
If you find your home quiet at times or you maybe thinking of getting a dog, but you are not sure if a dog is right for your home. You may not wish to have the responsibility of owning a dog fulltime. Please consider offering a rescue dog a home until a fulltime loving home can be found, your generosity could help make the transition into a forever loving home, so much easier.

Could you foster a dog until a full time loving home becomes available. Click Here...
Contact Us Via
**Mobile: 07989473131 (Bill)
Or contact us via email at

Please Follow Us On
You can also find us onFacebook, MySpace,TwitterorGoogle Maps

*Please note that all calls to Connors Legacy are charged at your network providers standard rates. Calls from a landline maybe set at a standard rate, **but calls to a mobile will cost more.
**Calls from a mobile will be set at your network providers standardrate, but calling a landline or mobile without any cross network minutes may cost more.
enquiries@connorslegacy.co.uk - Terms and Conditions - About Us - Privacy Policy- Site Map - Copyright ® 2010-2014 Connorslegacy.co.uk
4 Collingwood road, Colchester, Essex, CO39AU